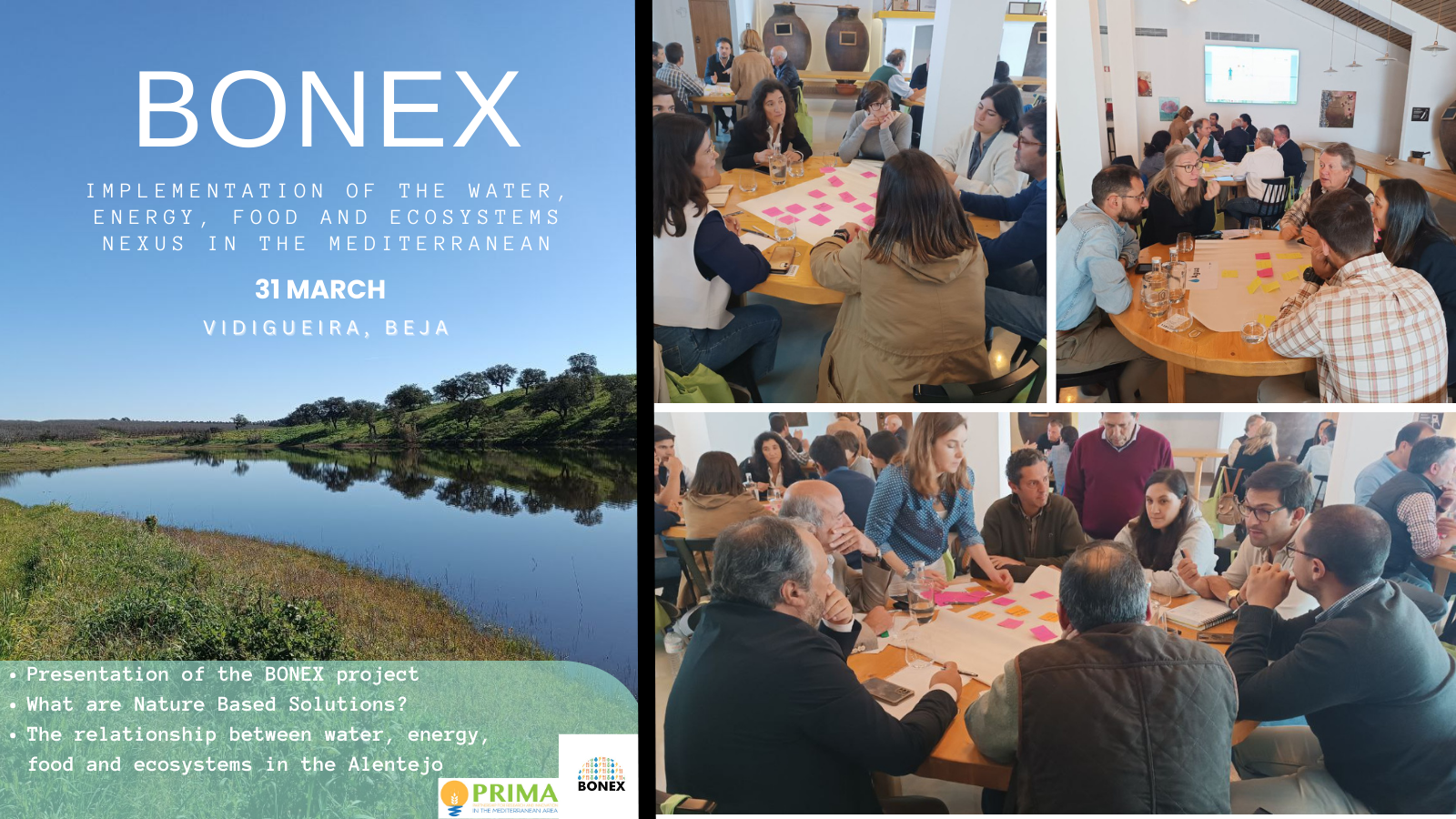 The first BONEX workshop in Portugal was organized in Vidigueira, Beja, on March 31st. 
BONEX: Implementation of the Water, Energy, Food, and Ecosystem (WEFE) Nexus in the Mediterranean. 
Agricultural systems have become increasingly homogenized over the last fifty years. Multiple intersecting factors place pressures on the agricultural system on which society and ecosystems depend. Among these factors, water, energy, food, and ecosystems are four core needs for human beings, and there exist boundless complex connections among them. A variety of factors related to society, economy, and environment as well as their dynamic changes have worsened the shortages of these three resources across the world. It is imperative to apply integrated resource-management approaches covering water-energy-food-ecosystems nexus (WEFE) to meet future resource needs in a more systematic and sustainable way. 

BONEX is a PRIMA-funded project focused on providing tools to facilitate the practical implementation of the Water, Energy, Food and Ecosystems Nexus (WEFE Nexus) in the Mediterranean.  In addition to these tools, a new innovative framework will be produced to enable the development and implementation of Nexus Bridge Plans, specific and customized plans for different innovative technologies. The project has seven demonstration pilots in Portugal, Morocco, Italy, Jordan, Lebanon, Spain and Tunisia.
On the one hand in Portugal, are being implemented Nature-Based Solutions (NBS). These are an approach that uses natural infrastructures (e.g. trees, shrubs, ponds) to provide and care ecosystem services in the agricultural landscape. One of the main points of promoting resilience to climate change is the implementation of NBS at the local level. On the other hand, BONEX are implementing a transdisciplinary approach. For these Stakeholder workshops are a key element, that aims to articulate stakeholder perceptions by focusing on the interactions between the dimensions of the WEFE nexus. Thus, the first workshop was organized in Vidigueira, Beja, on March 31. The objective was to identify the problems, causes, consequences and main solutions of the WEFE nexus in the Alentejo region affected by the Alqueva dam. The introduction of Participatory System Dynamics Modeling parameters allowed to answer problems about WEFE nexus in a more complete way than with traditional methods, based only on quantitative or qualitative data.
The next steps of the BONEX project will focus on introducing the Leverage Points approach to co-create and determine solutions to the problems identified.
  
For more information check the website of BONEX: https://bonex-prima.eu/